Planting Terms and Conditions
Established in 2019, Folium and Flos is located in New Forest, Hampshire. We stock a wide selection of specimen trees, hedging and shrubs. We take pride in employing a team of talented people with a wide range of skills and expertise. It is important to love what you do, and to do it with passion and our team certainly has plenty. 
Planting Terms and Conditions
Revisions to orders:
Changes to orders must be made promptly after the order confirmation. We reserve the right to decline significant alterations to the order made within 48 hours of expected delivery. Any accepted modifications might incur additional charges.
Access for planting:
Assumption is made for reasonable access for our vehicles and equipment to the planting sites edge. Extra costs for inaccessible areas will be charged to the customer. 
The access and route for our planting vehicles over breakable / weak surfaces is acceptable to the Company only at the Customer's liability for reinstatement and no claims for disturbance can be entertained.
Obstructions:
Services or obstructions encountered whilst carrying out planting are the responsibility of the Customer unless specifically identified in advance and accurately located on a scaled plan provided to the Company's office. Information such as height or depth in relation to surface level is required. Any additional work incurred as a result of a lack of such information will be charged extra to the customer, at cost, plus 10%.
Order Confirmation:
Upon receiving the final quote, confirm your order via email. Following this an 'Order Confirmation' will be sent across. Subject to our Terms and Conditions, no further changes can be made without incurring additional charges.
Cancellations Policies:
Your right to cancel your order once you have received your confirmation of order depends on whether you are a consumer or a business. Refer to our Terms and Conditions on our website for further details.
Missing plants from orders:
We may quote a plant that by time of order, is no longer available. Please indicate if substitutions are acceptable. Substitutes, if necessary, will closely match in size and variety. If confirmed in the final quote, your acceptance implies approval of these substitutes. 
Payments:
Full payment for all plants and materials is required before works commence. Planting / Labour charges are to be paid on completion of work. 
Planting Team Requirements: 
Ensure free access to water, an external tap, and toilet for our team. Lack of a toilet may require us to hire one at an additional cost. Additional site service runs would also be appreciated. These requirements are not included in the quote.
Landscapers & Garden Designers
We cater to all professions within the industry, whether it be pricing up a garden design plan or wanting to come and select some plants on the nursery with your client. There are no minimum orders and we deliver nationwide. 
rETAIL cUSTOMERS
We welcome all retail customers whether you are in need of a complete garden overhaul or just one or two shrubs. Please arrange a visit to the nursery we would love to show you around.
Garden Centres
We offer garden centres an easy ordering, reliable and a good value range which can be ordered with no minimum quantities and can be delivered direct to your site.
Garden Centres
We offer garden centres an easy ordering, reliable and a good value range which can be ordered with no minimum quantities and can be delivered direct to your site.
Mail-order
We work with various dropshipping and mail-order companies. We can streamline and grow your online business sales by supplying and dispatching plants for you.
Meet the team behind Folium and Flos.
Jack
Director
Jack is passionate about all aspects of business and his drive and commitment has seen Folium and Flos grow  from strength to strength. On a daily basis he manages sales, and the buying and sourcing of plants. He has incredible relationships with growers all to ensure he sources the highest quality plansts at the most competitive prices.
Christina
Online and Retail Manager
Customer experience and satisfaction is of utmost importance to Christina. She manages the online and retail side of the business and loves how fast paced it is. She has a passion for horticulture, loves being outside and spends her free time exploring the New Forest with her dog Otis
James
Nursey Manager
James works with the team to ensure only the finest quality trees and plants are available to customers and is extremely passionate about his role. He loves being able to work outside in the fresh air and meeting new customers each day. Outside of work you will find James renovating vintage garden machinery and enjoys classic sports and car racing.
Lukasz
Nursery Worker
Lucus is the life and soul of the nursery and always has a smile on his face. He is the go to for plant care and has an eye for selecting the best plants to fulfil orders. His love for plants doesn't stop at work, he grows his own fruit and vegetables at home, and when not harvesting  his crops you will often find him sat by a lake fishing.
Tom
Maintenance and Delivery Driver
Tom is Mr Fix It! He looks after the maintenance at Folium and Flos also gets out and about delivering plants to customers. He loves the outdoors and working as part of a team, and when he's not repairing things for team Folium he potters in his shed at home working on his own projects.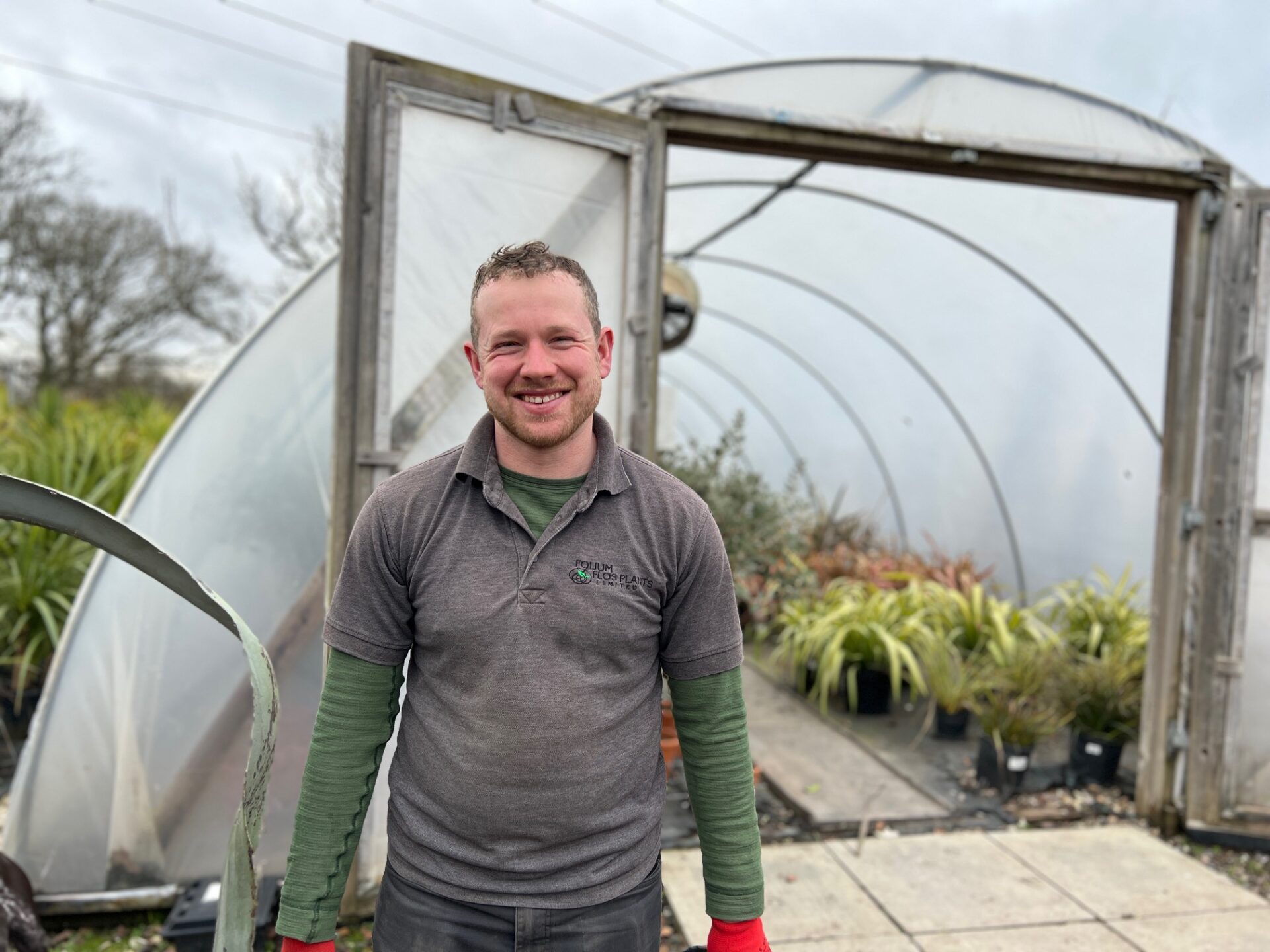 Josh
Nursery Worker
Josh spends his time tending to the nursery ensuring it is tidy whilst watering and maintaining plants so they look their very best. Josh enjoys working at Folium and Flos because no two days are the same, he loves the atmosphere and the team he works with. In his spare time Josh studies the skills and techniques behind the Japanese martial art kempo.
Otis
Head of Security
No doubt you have met Otis! Full of character and mischief, you will often find him out and about in the nursery completing his daily rounds. He is the life and soul of the office and no two days are the same when he is in!
Caroline
Retail and Packing Assistant
Before any products get dispatched they go under the watchful eye of Caroline! She manages the shipping department and ensures that the products are sent perfectly packeged and on time. She has a love for the great outdoors, so when she's not at work you will find her pottering around her garden tending to her plants and shrubs.
Digby
Director
Phasellus ac massa justo. Pellentesqu porttitor, ex nec dignis congue, ex enim fermentum nunc.